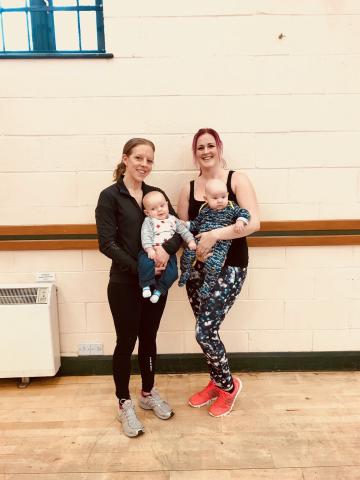 Emma, 2 children, 5 yrs and 5 mths
I first started classes with Sam after having my daughter, who is now nearly 5. With this pregnancy I wasn't able to attend any of the prenatal sessions, but was keen to start postnatal fitness after having my son and instantly knew Sam would be the best classes to attend. Her knowledge is vast and she has such a passion to help woman with their fitness. 
After having my son I found my postnatal recovery to be much quicker than it was with my daughter. I had to have an emergency section with my daughter, whereas I had an assisted delivery with my son. I just needed to remember to do my pelvic floor exercises - I struggled to know if I was doing it correctly and Sam's classes have really helped me to understand it. 
The thing I think I found most difficult (apart from the ongoing sleepless nights!) was mentally preparing for the birth, my son was 3 weeks early and I don think I was quite prepared for it - my labour certainly took me by surprise! Once he was here though we quickly settled into being a family of 4 and my daughter has been great with him. 
Sam's classes are enjoyable and it's lovely to meet other like minded mums while looking after ourselves. 
Becky, 2 children, 11 yrs and 5 mths
I have an 11 year old son, and now a 5 month old daughter named Star. My pregnancy this time round was constant a struggle! Despite being scheduled for a cesarian section, due to high risk of blood loss, I gave birth naturally at 36 weeks, after a very short and traumatic labour!
When a friend recommended Sam's post-natal fitness classes I was thrilled to be able to be able to get out the house and exercise knowing that my baby is being looked after in the room with me!! Sam's classes are amazing, she is very knowledgable and has a great sense of humour! The group is so friendly, all the exercises are tailored to each members own capabilities, and Sam always recommends alternatives for exercises which I can't do because of lower back pain.
Pauline is fantastic with the babies, and it always amazes me how well behaved and chilled they are in each other's company!
On occasions when Star has wanted my attention she is happy joining in with the exercise too!
I was always a very active person. I played squash in my younger years, and played football and badminton when my son was young. Before I had Star I suffered with M.E for about four years which was very debilitating, I struggled I struggled to get out of bed sometimes for days. Since having Star, and now getting regular exercise, I feel so much better physically and mentally, and very rarely get 'bad days'. I couldn't recommend the group enough, it has been one of the highlights of my post natal experience!