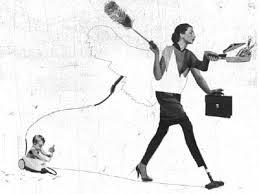 Hi everyone,
This is a short blog about returning to work and balancing everything.
A friend, client and mother of four recently told me about her journey back to the working world.  She has had several years at home bringing up children and when the last one started school decided she wanted a job outside the home again.  I'll won't dare say she had a few years 'off' as we all know that being at home with children can sometimes be the harder job!  When I asked how the job was going, she said it was tiring but getting easier.  The job is four days a week.  I then said, how's your house looking?!  She said something really thought provoking.  She said that usually when arriving home from work or school, that the first thing to do would be to pick up anything that was out of place; on the floor, on the stairs, you know how it is.  She said she has learnt to 'STEP OVER IT'.
I love this.  It's something I could definitely do.  We should all learn to STEP OVER IT a bit more!
See you soon,
Sam 
PS.  Look out for my post natal exercise videos soon.  You can do them at home whilst the kids are in bed :)